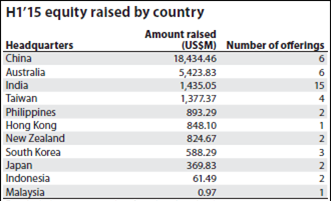 The amount raised from both common and preferred equity offerings from Asia-Pacific banks increased in the first half compared to the first half of 2014.
In the first half, common equity offerings from SNL-covered Asia-Pacific banks generated US$16.05 billion, an increase of nearly 26.5% from 2014's first-half total common equity raised of US$12.70 billion.
The region's banks raised US$14.20 billion via preferred equity issuances in the first half, compared to US$347.1 million during the 2014 first half. It should be noted, however, that China, which has dominated preferred equity offerings so far in 2015, has only allowed for the issuance of preferred shares since April 2014. In total for 2014, Asia-Pacific banks raised US$29.53 billion through preferred equity issuances.
Banks headquartered in India saw the most common equity offerings in the first half with 15 offerings, followed by Australia and Taiwan with five and four offerings, respectively. Two countries saw banks issue common equity amounting to over 30% of total common equity offerings in the region. Australia led the way with banks issuing US$5.20 billion, or 32.42% of total common equity offerings, while China came in right behind with US$5.10 billion, accounting for 31.78% of all common equity offerings.
China-based CITIC Securities Co. Ltd.'s US$3.50 billion follow-on offering, which was completed June 23, was the largest common equity offering in the first half. The bank said proceeds from the offering will be used to supplement the capital base of the company to help develop its flow-based and cross-border business, build its platform and replenish working capital.
National Australia Bank Ltd.'s rights offering announced May 7, which was broken up into a retail component and a institutional investor component, came in as the second- and third-largest common equity offerings in the first half, respectively. The institutional component raised US$2.12 billion and was completed May 11. The retail component, which completed June 1, raised US$2.17 billion. The bank said proceeds from the offerings will be used to support the demerger of its UK banking units.